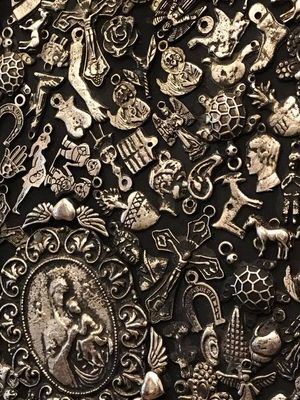 A little while ago, I came across a piece of artwork with the most incredible frame.  Here is a close up of it.
It instantly transported me back to Costa Rica, to the Iglesia de los Angeles in Cartago, where pilgrims travel to ask for healing from La Virgin - a black stone shaped like the Virgin Mary.  The icon is beautiful in it's simple lines and clear image.
The pilgrims pray for healing of, and leave tiny charms that represent, the ailments that they or their loved ones are suffering. It's a chaotic display that radiates a Holiness that is hard to describe, and leaves a lasting impression on those who witness it, especially as it is being practiced.
Can you feel authenticity? There is a naturalness in this that opens a space in my heart.